It was the second week of our full-time travels when–BAM–our CD player in the van died. Boo. It was a Chris Driesbach CD, so we blame him. Thanks, Uncle Chris! After over four-and-a-half years, we replaced our dying van with a new-to-us one. The perk to that was a working CD player. Hooray!
That enables us to fill some of our traveling hours with keep-your-eyes-open CDs, like the missionary adventure audio collection sent to us by Brinkman Adventures.
What is Brinkman Adventures?
Brinkman Adventures shares dramatized missionary tales based on real life. They are a "non-profit, non-denominational Christian organization dedicated to inspiring, motivating and facilitating the next generation of Christian world changers." That's a big undertaking!
Just like us, they are supported by donations, CD sales, and download purchases.
What is Brinkman Adventures Season 4 all about?
Brinkman Adventures Season 4 contains 12 dramatized episodes of missionary heroism…or harrowism, if only that were a word. Each as far as I understand is at least partially based on or inspired by true stories of missionary experiences. Eek! Some parts of the story itself are fictionalized, but the experience is drawn from true stories you can read here. All those stories are spoilers, just so you know, so don't read them if you want to listen to the audio adventures.
The Brinkman family is a uniting thread throughout the series–sometimes they are actively involved in the adventure, and at other times they are listening to someone else relate a story.
Here are the 12 half-hour episodes you'll listen to in season 4.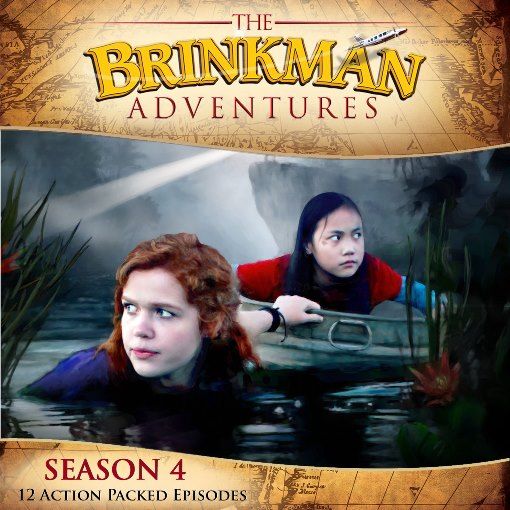 (Some of these reviews are mine, the less wordy reviews are by other listeners, since I wasn't always available (translation: awake) during each episode…even though we listened twice. I have trouble always being "available." That in no way reflects on the audio adventures! Ask anyone!)
37. Paradise Lost. A broken dam, road closures, a mother delivering her baby in a cellar, a camp of kids needing rescuing–all told this means that Missionary Adventure Camp is not going as expected. Rather than overwhelming disappointment, it becomes a lesson in love, as one catastrophe after another teaches us that God is in control and we should go with the flow (pun intended, you know, because the dam broke and the water was flowing–oh never mind).
38. Remember Nhu. A very sensitive topic–children being sold as workers–teaches listeners about perseverance. This is a definite eye-opener for many of today's children who think slavery is having to wash the dishes.
39. Aisha's Fear. A Christian wife has a Muslim husband who is cruel to Christians. He becomes sick and is nursed kindly by his wife and the Christians he had degraded. His story has a happy-sad ending that I'm not going to tell you, but it does prove that having faith isn't going to make everything in this life turn out how we might think it should. That's only half the story. The wife then goes on to prison and we see how her faith affects the lives of others.
40. Heart Song. This is the story of a father who accidentally started a church when what he really wanted to do was teach his son about Jesus. His imprisonment, faithfulness, and challenges are the main theme. This is an extremely moving and intense story. I am especially impressed by how the Russian family prizes their one Bible and their study time, and by how they listen to God's call to prayer. A favorite episode.
41. The Crashed Kitchen. This episode addresses challenges and discouragement experienced by some missionaries in South Africa. It emphasizes the need to remain faithful and continue in prayer and service to God, despite circumstances. He will remain faithful. While the message was good, this wasn't my favorite episode. Nevertheless, we all loved the little story that an African missionary traveling through tells about the king, his servant's unwavering faith, and the goodness of God, despite our inability to see it at times. I caught my husband sharing that story with someone in the parking lot last week. (We spend a lot of time chatting in parking lots–it's our thing.)
42. Crisis in the Congo. Jack and his daughter Kate Brinkman from Wisconsin (but without the Wisconsin accents and not one mention of cheese curds) visits a missionary in the Congo. They intend to vlog their adventures sharing the Jesus film with a not-so-nearby village, but misadventure follow them everywhere, including a hippo in hot pursuit. In their efforts to achieve their goals, they miss many other witnessing opportunities. The lesson Kate learned along the way is to not be so focused on our goals that we forget about loving people and witnessing. My favorite quote: "I feel like a tax collector carrying all these chickens."
43. The Mysterious Palm Feller. This episode centers around the mystery of felled palms…you know, knocked over. It's a mystery, so I can't tell you what happens, because that would take all the fun out of the mystery. I can tell you that it is a story of witch doctors–very real, very today. And it's also a story about facing evil head on. I have the chills. The family is still in the Congo.
44. War of the Raccoons. If you have a little fear of artificial intelligence creeping into your life, you should listen to this episode. Throw in some paint guns and masked bandits (a.k.a. raccoons) and you'll find yourself chuckling. This episode teaches about working faithfully.
45. The Five Guys. We're taught the importance of listening to God in this episode where pastors in Bangkok are being imprisoned. The title comes from "five guys" who are being taught to be Christians living among people who consider them heretics.
46. Toughest Man. In this episode, Nick suffers from "bloody dreams." That's a dream that has blood in it. It becomes a debilitating issue, but in one dream he is called to search for God. Eventually, he comes to faith. That's the beginning of a new adventure, where he is captured. He and another surprising hero need to decide how far they will trust and follow God. This is an excellent lesson for everybody, whether we are sacrificing our lives and family or our "cool" status–one thing about being a geek is I've never had to stress about losing my cool status.
47. Cambodian Quest. The Cambodian Quest takes place in…wait for it…Cambodia. This one hearkens back a little to episode 38. To protect children, they are kept in Nhu's House, a hidden sanctuary of sorts. Do you get the chills and want to save all the children when you hear topics like this? Me, too. Do you think we could fit them in the trailer with us?
48. What Brings Us Together. The family is preparing for a wedding with, naturally, the crises that seem to follow the Brinkmans. The architect of the family feels his work isn't as important as that of a missionary. This mirrors conversations we've had in our own extended family, which is interesting–I'm interested. I guess you don't have to be. Ultimately, we learn that we can glorify God in all that we do, or the opposite…

What can you expect?
There are messages of grace, perseverance, and great faith in these CDs. Each story can stand on its own, but I think they're just a touch better watched in a series. Did I say "watched?" Don't you stare at whatever device is pouring forth sound, like I do? Of course you do. I'm totally normal.
While this is the fourth season, I have heard that you don't need to listen to the first three seasons to benefit from the one we have. There will be some references to people or events that you won't necessarily understand, or so we're told, but that didn't affect us at all.
We found the stories to be interesting, and there was something in many of them that stuck with us. I was afraid during some of them that the series was going to be teaching that if you believe, your life will be rosy, but it certainly did not turn out that way, which is good, because life ain't rosy, and Jesus never promises that it will be.
The project is well done. The sound effects are great and help to immerse you in the stories. The acting is generally very good also! Overall, we felt the productions were of a high quality.
How can you use this in your homeschool?
If you want to somehow tie this into studies of missionaries or even possibly your modern history studies, that is doable. Personally, I feel it is a study all its own–it's an eye opener. Many of us take for granted the Bible in our bag and the extra Bible just for journaling in the kitchen and a third Bible in the nightstand and yet another Bible on our phones. We have churches on every other street corner (alternating with taverns in some states).
We can worship for now in relative freedom. But the day will come and it has come in many other countries when that will not be the case. Waking up to this fact not only helps us appreciate the freedom we have and the opportunity to worship, but it cautions us to guard those freedoms through our votes and our speech.
Personally, I'd add Brinkman Audio Adventures to our government class, but that's just me, and I do cookie math, so you might want to decide for yourself.
Additional thoughts for other frugal and/or large families:
Everyone in our family listened together–maybe the two-year-old didn't pay much attention, although when the music got scary, he grabbed someone. There are a couple of warnings about material that was pretty intense, but it wasn't inappropriate. I mean, I personally don't think it's appropriate to beat a Christian and threaten to hurt his family, but it's not going to lure your children to do the same. Sensitive kiddos, however, may need to wait a few years.
Additional thoughts for my fellow roadschoolers:
We enjoyed these discs on our drives. Duh. It's also available as a download, but I can't figure out how to get something on my computer to play through my van. No clue. Someone smart in that area showed me once, but he used words I didn't understand–either that or I was distracted by his grammar errors. We all have our gifts–grammar, technology, creating audio adventures…
Okay, here's a little truth for you. As soon as anything is put into the CD player in the van, I am asleep. Honestly, it's like a lullaby to me. That said, I listened to many of the episodes a second time while working in the trailer while people were painting, coloring, or writing letters…and I stayed awake. I know–I deserve a cookie. I tell you this because if you are the type who falls asleep in the vehicle no matter how exciting your listening material is, ummm, don't listen and drive. Today I reign as Queen of Obvious.
A thought.
We are traveling music missionaries, and we've never encountered hippos. Everybody asks us that.
We're not in Africa. We've never been imprisoned, unless I slept through the experience, which is possible. But we reach souls, sometimes a handful, sometimes hundreds at a time. Most know their savior, some do not. Some need encouragement and hope, others walk away with a new tool to reach out to others. We never know how the Holy Spirit will use our family.
You, too, are a missionary. Even if your children don't step out of the country or, hey, the county with the Word, they can be missionaries in their own neighborhood. My hope is that products like the Brinkman Adventure Series not only alert children (and adults) to the truths of modern day persecution and struggles, but also the urgent need for everyone to "Go into all the world," including your own back yard.
What other parents are saying:
Other Homeschool Review Crew parents also reviewed Brinkman Adventures Season 4. To get their opinions, click here or on the banner below:
Social Media Links:
Follow Brinkman Adventures on Facebook:
https://www.facebook.com/Brinkman-Adventures-152895116079/