Our firstborn son Elijah wants to be a chef and a pastor. (Can you imagine the potlucks in his church! I hope I get a standing invitation.) In our denomination (WELS Lutheran), pastors-in-training learn quite a few languages–Latin, because it's a church language, Hebrew, so they can read the original Old Testament, Greek, to they can read the original New Testament, and German, because Luther's writings were in German and probably the best German potato salad recipes.
We figure he could use all the advance training he can get if he ever outgrows snake-catching and becomes super intent on the rigorous eight-year training path our church demands. That's why were excited to review Hey, Andrew! Teach Me Some Greek! – Level 3 Set from Greek 'n' Stuff.
For review purposes, Greek 'n' Stuff sent us a teacher's manual, a student workbook, and a disc.
Because this is level 3, it assumes you have some basic knowledge. That basic knowledge includes knowing the Greek alphabet. Never fear, however. The program begins with a review of the Greek alphabet, and when I say review, I mean it teaches you the whole thing all over again. If you did Greek 1 and/or 2 already, you will fly through the alphabet section. If you're newbies like us take your time, also like us.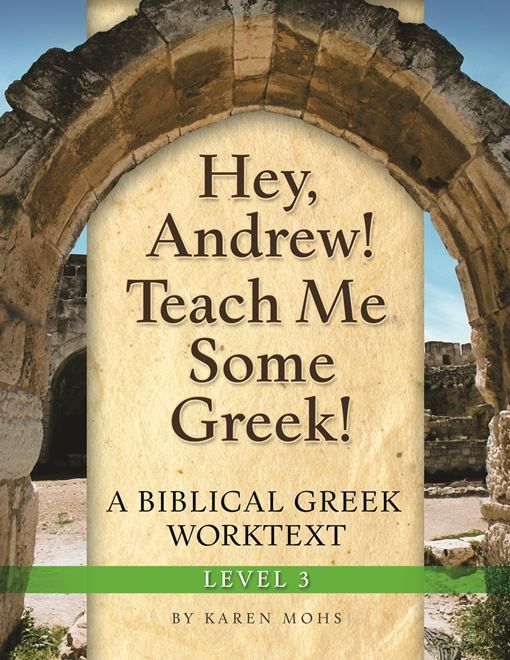 Because we were just beginning, and because little sisters wanted Elijah to sing the Greek alphabet with them instead of flying through it at his own pace, and because he made a lengthy game of memory match out of the alphabet, we took about four weeks to master the whole thing. (Note: Little sisters did not do the program–they just learned the alphabet by listening to the song. We only have one workbook, so it is only for one child. But the whole family can't help learning the alphabet song when it's played over and over and over and…over.)
Let's talk about the components:
The teacher's manual is everything you need to teach the course. It breaks the lessons up into five short lessons a week–very doable, even for us…although sometimes we bunch up lessons or skip a few days. It includes all the answers to the assignments in the student workbook. It also has optional quizzes and exams. Isn't that lovely–they're optional! I love options.
The concepts are broken down into an easy-to-understand format, with each topic laid upon another, with plenty of non-boring review. You will not become overwhelmed (like I am right now in Spanish–save me!).
The student workbook is also broken up into lessons. Each student will need a workbook, because it is consumable (not edible, consumable–see the difference?). The lessons include straightforward activities, such as writing out Greek words or practicing the letters, and more "fun" activities, such as illustrating Greek sentences and playing word games with snowmen. Your student will not get bored.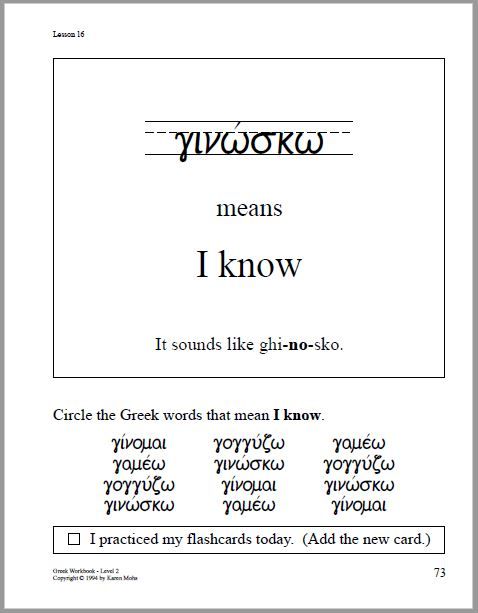 Now let's talk about the disc. The disc covers both levels 3 and 4. It is essential for pronunciation purposes. The alphabet song (or should I say alpha-beta song) is catchy and helpful. As a family of musicians, however, we would have liked to see it a leeeeetle more professionally produced. I know that's expensive, though–believe me! So never mind.
We mostly listen to it when the pros aren't around…which is hard…since we all live together in a 250-foot travel trailer.  We just say, "Go get ice cream," and they say, "Good idea," and we stay home singing, "Alpha beta gamma delta epsilon… ." Genius.
How did we use it?
Elijah used it exactly as written, except instead of making flashcards, as the program suggests, he made card games. Whatever works, eh?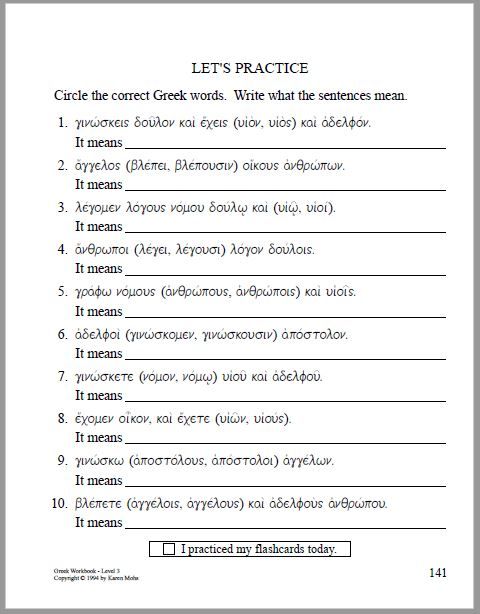 Is this parent-heavy?
I didn't find it to be parent-heavy. In fact, it is simple to use for parents whose Greek knowledge doesn't extend past watching My Big Fat Greek Wedding and fast-forwarding through the bad scene. Windex, anyone?
Additional thoughts for other frugal and/or large families:
The workbook is consumable. Sorry. But the good news is that you don't have to spend time printing, which is evil, or copying, which is somewhat evil.
The level 3 program is working great for Elijah, who is 11. I could also see it working for all his older siblings, as well as his 9-year-old sister. If I were to start Eliana on it (she's 5), I would back up to level 1 or 2. And Judah, well, he still stores cheese in his cheeks, so we'll just sing the alpha-beta song with him for a couple more years.
If money were no object, I would…well…pay off our van…but if money were really no object in any regard, I would get a workbook for everyone in the family and we would all learn to read the New Testament in Greek!
Additional thoughts for my fellow roadschoolers:
No internet connection needed.
Minimal shelf space of maybe two inches–add one inch for each additional student workbook.
Durable plastic-coated lay-flat binding.
The ability to impress all the other boondockers with your child's multilingual skills.
Will it stay on the road with us?
Yes, we are going to finish up the Greek program. It's fun and, come on, aren't you the least bit impressed that our 11-year-old is learning Greek? Points!
Summary:
I love the thought of being able to read the words of our Savior in the language He spoke. Also, a basic understanding of Greek will help with English vocabulary as well. Double bonus! This program has been on my want list for years, and it lives up to the drooling! I'm very pleased.
What other parents are saying:
Other Homeschool Review Crew parents also reviewed products from Greek 'n' Stuff. To get their opinions, click on the banner below:
Social Media Links: