When Heirloom Audio Productions offered us the possibility to review the audio adventure In the Reign of Terror, I practically begged. Seriously. And I didn't tell the family, because they would have been terribly disappointed if it fell through. After all, isn't there enough disappointment in life–like veggies on pizza, an empty butter box in the fridge, and gingivitis. But it didn't fall through! The package came, the family opened it, and my people were smiling big!
What you need to know about us:
Ugh, who cares about us? Okay, fine–there are ten of us, we travel full-time as Christian music missionaries, we roadschool, and we spend a whole heck of a lot of time in the van and our travel trailer. Also, we love history.
Enough about us.
What is In the Reign of Terror?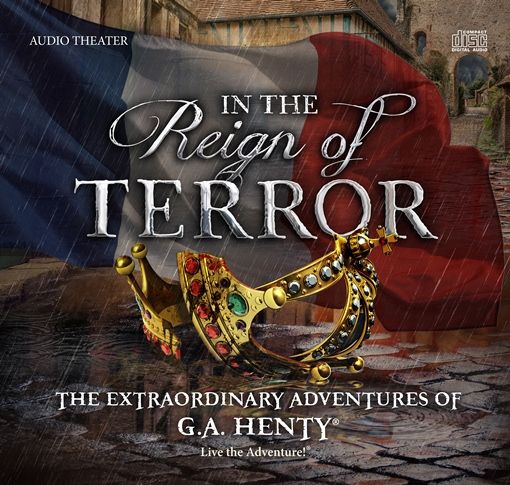 In the Reign of Terror is an audio production of G. A. Henty's book by the same title. It is part of the series The Extraordinary Adventures of G. A. Henty. If you're familiar with (and probably already infatuated with) G. A. Henty, you're already trembling with joy, but if you're not, you only need to know this: Henty writes historical fiction placing young people into major historical events throughout history…as opposed to historical events in the future. Seriously, Christy, get an editor…and a thesaurus.
The characters face challenges most of us couldn't imagine, and through it all their (or someone else's) faith shines. Every Henty book is a character-building experience emphasizing bravery, loyalty, faithfulness, and other all-too-rare character traits.
In the Reign of Terror takes place around the French Revolution during a period of unrest when the people were rebelling against the nobles. Rebelling isn't the right word. They were assassinating them, sending them to the guillotine essentially because of their lineage. Ouch. This is a gross understatement of the happenings of the time, but this is a review, not a history lesson.
The main character in the story is an English boy named Harry who is temporarily living with a family of French aristocats–I mean aristocrats. This is totally not a happy-to-me Disney production about kittens and geese!
As the story unfolds, Harry finds himself struggling not only to understand the French classism and hatred around him, but also to help his new friends survive as they find themselves targeted by the peasants. There is death in the story. There is sorrow, faith, doubt, courage, fear….
Perhaps the most moving section of the entire production is the moment when a mother and her adult son are being sent to the guillotine. Their courage, their faith, and their beautiful exchange of words, especially from the son to his mother–oh my! There are a few scenes from literature that stay with a person forever, and this is one of them.
I don't want to give away the entire story. I will tell you this, though. Listeners will get an excellent understanding of the struggles of the time from the perspective of the upper class. Much has been said from the peasants' view, but few works have dwelt on the nobles' plight.
What can you expect?
If you know nothing about the French Revolution and the time before and after, you are in for an awakening. It isn't a gentle time, and the Henty productions do not "sanitize" history. You will be enlightened.
Also, the differences between the American Revolution and the French are emphasized. This is important for our children to comprehend. When the people respect the sovereignty of God and strive to live within Christian principles, even their revolutions differ from those who serve only themselves. This can be seen in the production.
If you want to make this an even more in-depth lesson, you can join the Live the Adventure Club. It gives you access to the following:
Streaming of the audio production
Original ebook with illustrations
Official soundtrack
Printable cast poster
Study guide
Verse poster–this is beautiful
Desktop wallpaper
Downloadable script, which also sheds some light on the production process
Let's talk about the study guide for a moment. We've used many of the Heirloom Audio study guides, and they're quite adaptable and informative. This one is no exception. It include the following:
Biographies of Henty, Robespierre, and Marie Antoinette (very helpful in understanding the times)
Listening Well (comprehension questions–I skip these with my older kids, but use them with my younger if I think there is something they didn't grasp)
Thinking Further (thought-provoking questions as well as "dig-deeper" activities to help the lessons root deeply)
Defining Words (get out the dictionary)
Expand Your Learning (boxes of information scattered throughout the guide that offer tidbits of information to enhance the lessons–very interesting for this history geek)
Recipes (no-knead French bread and "Let Them Eat Cake" brioche–yum!)
Further Reading (if you want to dig even deeper, there are recommended books to learn more)
Bible Studies (three Bible studies are included at the end of the study)
Historical Essays (brief summaries of the historical period that will help you understand the time period–I recommend reading this to yourself or having your older children read these before listening…or before and after)
The study guide is broken up into scenes. Each is marked by disc and track as well as by the time period on the playback, making them easy to find when you start up again next day.
How did we use it?
I have to 'fess up. Despite my intentions to use the study guide and listen sloooooooowly to a section a day, we stuck it in the van during a long drive and were riveted for hours. Yup.
We did discuss it and compare it to The Scarlet Pimpernel. 
Is this parent-heavy?
You can do what we did and (oops) listen to the whole thing at once, or you can use the accompanying study guide to its full extent. Really, it's up to you.

Additional thoughts for other frugal and/or large families:
Unlike other productions we've listened to from Heirloom Audio Productions, I wouldn't necessarily recommend this one for the littles. Being sent to the guillotine and losing members of the family to beheading might be just a leeeeeeeetle bit rough on the younglings. The 12 and up crowd are okay, though–not okay with beheadings, but okay with the story. Our eight-year-old was okay with it, too, but she was a huge fan of The Twilight Zone when she was five (thanks to her daddy), so take that age rating with a bag of salt. You know your kids best.
The production will be enjoyed by all the ages mature enough for the subject. One purchase suits all.
Additional thoughts for my fellow roadschoolers:
We highly and I mean HIGHLY recommend Heirloom Audio Productions, and most especially The Extraordinary Adventures of G. A. Henty, for anyone who has to drive with eyes open. The stories are compelling and the productions are of the highest quality. We have four of their Henty productions and have never once been disappointed or fallen asleep at the wheel while listening.
There are online options as well. If you join the Live the Adventure Club, you will have downloadable options. We're currently struggling with internet access in the sticks, so I've had a little trouble accessing some of the extras. I did, however, already download the study guide to my computer, so it's readily accessible if my internet fails me.
Will it stay on the road with us?
Absolutely. Undoubtedly. No question whatsoever! Even after our repeated trailer purges, all our Heirloom Audio Productions CDs remain with us on the road. No touchy!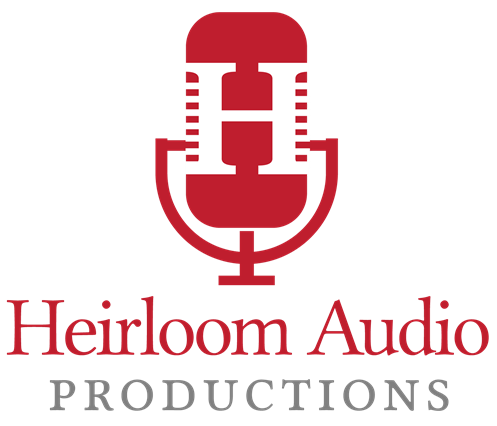 Summary:
Bring history to life and give your family Christian heroes with strong character traits with the fabulous Henty productions from Heirloom Audio Productions.
Want to know more?
Click on any of the links below to learn more:
What other parents are saying:
Other Homeschool Review Crew parents also reviewed In the Reign of Terror. To get their opinions, click here or on the banner below:
Social Media Links:
Facebook: https://www.facebook.com/HeirloomAudio
Twitter: https://twitter.com/HeirloomStories
Google+: https://plus.google.com/b/114534826166314080647/114534826166314080647