I have a child whose handwriting…well…stinks. In large part this is my fault for not supervising him early on and just relying on the Scooby Doo handwriting book I bought him. Scooby Doo can homeschool, too, can't he? Apparently not.
Recently this child (we'll call the child "he") started using Easy Peasy Cursive from Channie's Visual Handwriting & Math Workbooks. Here is our experience.
But first, I know most of you are here to read about grand hiking adventures and beautiful concerts, life-changing roadschool experiences and simple living tips, but what's all that excitement if your handwriting isn't clear enough to send a legible postcard to Grandma? It always put a smile on my own Grandma's face and heart when the kids would start writing her in cursive instead of print, especially when she could read it clearly.
So there ya go.
What is Easy Peasy Cursive?
Easy Peasy Cursive is an extremely simple concept. It's a simple workbook exclusively for learning cursive letters.
Each letter of the alphabet is given three pages. The pages all contain rectangles for the letters, all slanted for the proper shape of the cursive letters. The rectangles also ensure that the letters are a consistent size.
The rectangular shapes are shaded in green halfway up so the short letters have a roof over their heads, too. There is a space below the box for low-hanging letters, like g and y, to extend their tails. There is also a small space between letters so children can grow accustomed to proper spacing.
The first page of each letter has the letters outlined with dots. There are also small red arrows to show the direction the pencil should take.
The second page removes the arrows. The third page removes the dotted letters and the child writes the letters on their own.
After all 26 letters are taught, there are two pages of words for the child to practice–it's a total of ten words.
That's it–a simple concept, a simple workbook, a simple way to reinforce cursive lettering quickly.
What can you expect?
Your child will learn to master all his cursive letters. He may not be a Spencerian master, but his writing will be tidy and legible if he follows this program.
Is it redundant–definitely. Practice makes p…p…legible.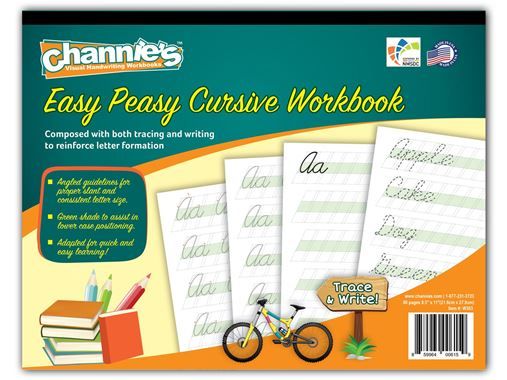 How did we use it?
I had my student work on one letter a week. Because he is old enough to begin managing his own time, I simply say, "This week is L," and he is responsible for using his time wisely. Of course, if he doesn't, that means he's writing "Ll" 105 times in one day. Consequences stink, but not as much as growing up without ever learning to resist procrastination.
Because writing "Ll" 105 times, even over the course of 5 days, isn't exactly…exciting–effective, yes, but not exciting–we still continue with copywork. I do not have him do his copywork in cursive, however, because I want him to stop using cursive until he has mastered the proper lettering. Copywork will continue in cursive when he's mastered all his letters.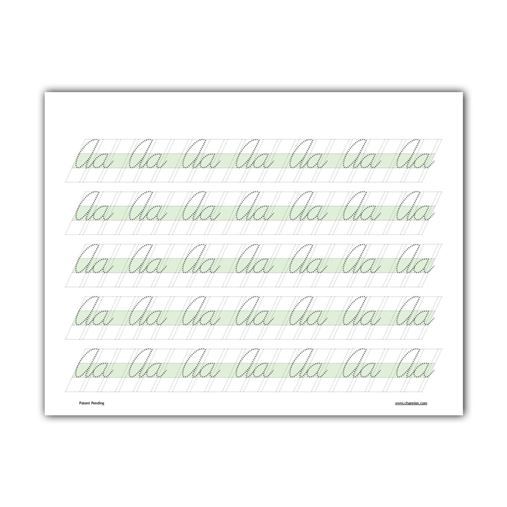 Is this parent-heavy?
Because I don't want him to learn the wrong way again, I do stick around long enough at the beginning of a letter to make sure he's shaping his letters properly instead of using the pencil acrobats he once used. I also ask him periodically throughout the week to show me an Ee or an Hh. Otherwise, I keep to myself about the whole thing.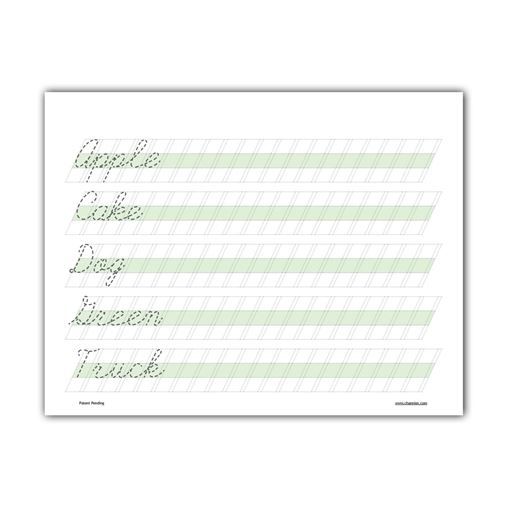 Additional thoughts for my fellow roadschoolers:
This takes up almost no space and helps make those postcards to Grandma legible. 'Nuf said.
Will it stay on the road with us?
We will be using up the entire workbook, so, yes, it will stay with us.

Summary:
I like this simple, basic approach to learning (or in our case re-learning) cursive. The slanted boxes, green shading, and gradual reduction of aids are very helpful and effective.
Want to know more?
Click on any of the links below to learn more about the Easy Peasy Cursive or about other products from Channie's Visual Handwriting & Math Workbooks. I've listed recommended grade levels below, but my student is well outside the recommended grade level for the product we used, and he still benefitted. Sometimes, you've just got to start over.
What other parents are saying:
Other Homeschool Review Crew parents also reviewed Channie's Visual Handwriting & Math Workbooks. To get their opinions, click here or on the banner below:
Social Media Links:
Facebook: https://www.facebook.com/channiesworkbook  Tag:   @channiesworkbook

I received a FREE copy of this product through the HOMESCHOOL REVIEW CREW in exchange for my honest review.  I was not required to write a positive review nor was I compensated in any other way.  All opinions I have expressed are my own or those of my family.  I am disclosing this in accordance with the FTC Regulations.