You know by now we're full-time RVers. (If you're new here, guess what! We're full-time RVers.) As such, we spend quite a bit of time driiiiiiiiving. Driiiiiiiiving is different from driving. Driving is going somewhere, perhaps chatting with someone, listening to some tunes, thinking happy thoughts, watching raindrops race each other down the window. Driiiiiiiiving is achieving a comatose state from spending too much time driiiiiiiiving.
To hold off the mental paralysis of staring at yellow lines or each other or the spiders on the mirrors for hours at a time, we sometimes listen to books on tape or audio productions. A recent favorite we encountered in the past two years is Heirloom Audio Productions. The most recent adventure Heirloom produced is called Captain Bayley's Heir. Let me tell you about it.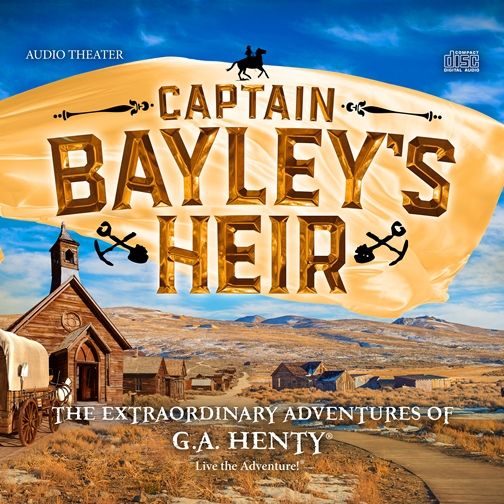 What is Captain Bailey's Heir?
You always ask the best questions, like "What is Captain Bailey's Heir?" and "Where are the cookies?" I will tell you and in the freezer.
Captain Baileys Heir by Heirloom is a dramatic audio production of author G.A. Henty's historical fiction novel of the same name. It is, in essence, the story of a boy (named Frank) turned man (also named Frank) who experiences a severe injustice at university in London. (The British say at university without saying "the" or "a," like we would say at college. I felt compelled to explain that….which is why I explained it.)
Frank is falsely (we think, but don't know until the end) accused of theft and is held against his will until he can be publicly accused. He seeks assistance from his family, but for reasons unknown at the time, no help is given. Through the encouragement of a long-time comrade, Frank flees to America.
This is where the excitement begins…and also the "Whatever!" Frank makes friends with a variety of different people, including a steamship captain, cowboys, a nearly mute man who rarely speaks and only in poetry, and gold diggers. Everyone affects him in some way. Eventually Frank establishes strong bonds with a couple of Americans who take advantage of the Gold Rush in California, which every football fan knows is in 1949. Ultimately, he strikes it rich, which is a bit of a spoiler, but you knew that would happen. There is far more excitement after he finds gold and decides to remain in America.
Throughout the story, a friendship is woven with a crippled adopted orphan in England who ultimately plays an interesting part in the end of the story. I'd tell you what it is, but that would ruin the story for you. Of course, if you listened to the whole thing and then fell asleep for that part, I empathize, and will tell you everything.
A girl is also involved–a faithful girl. No surprise there. Henty's romances are all wholesome, so chillax.
What can you expect?
Heirloom productions are always of the absolute highest quality with top-notch actors and actresses…or am I supposed to call them all actors these days. I get so confused. Rephrase: with top-notch people who get paid to pretend to be someone else. There is never any question about quality! The music, production quality, and voice acting and actressing (or pretending-to-be-someone-elsing) draw you in and keep you in the story throughout the entire production.
So, highly professional. Got it?
Next, like all Henty novels and Heirloom productions, character and Christian values play a huge role in the plot. In this case, the main character learns about grace. There was a little doctrinal issue–Frank was told to do what you can, and grace covers the rest. Actually, grace covers it all, since our works are "like filthy rags." Other than that, great stuff!
Third, did you ever notice how much G. A. Henty and Lieutenant Columbo have in common? It's the "Just one more thing" line that seals these two together as bosom buddies. Every time we think a Henty audio drama is over, it strikes up another mini crisis and another resolution, and in this case another, and then another! Whew! You're almost glad it's not over, because then there's more, except you were probably riveted for a few hours and really have to go to the bathroom, and you're super hungry, in which case the show being over wouldn't be such a bad thing.
I can't tell you too much about the end (or the pre-ends), but I can give you my kids' opinion of it, which is a total spoiler. Consider yourself warned.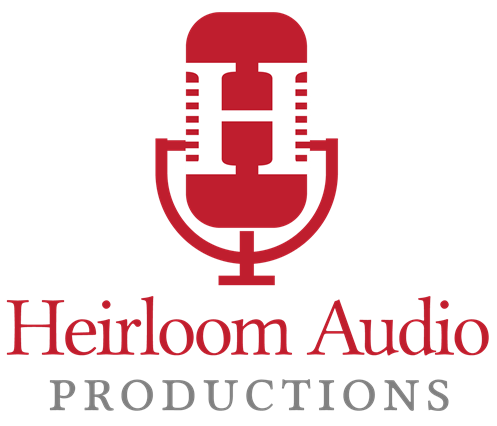 What did we think?
I was in audio heaven once again listening to the voice of Jon Rhys Davies–you can almost hear Gimlie bantering with Legolas! If you are not a Davies fan, well, I guess these aren't for you. Actually, you should just get over it, because these are really good.
Now, bear in mind that we are Americans and Henty was British. We felt that the portrayal of Americans was a little, uh, typecast. There was a lot of western draaaawwwwwlllling. It reminds me of when I first arrived at university in England and the staff gave me a poster of a cowboy riding along a dusty, treeless desert landscape to "make me feel at home."
I was from Wisconsin. I wanted a picture of cheese curds.
My kids said that, although they enjoy every episode, this one was a little less believable than previous Henty Heirloom Audio Adventures. I questioned them on that. After all, in The Cat of Bubastes, men rescue a girl from a crocodile as it's dragging her into the Nile. They said, "That was Jethro! He's…Jethro! Frank was a British boy singlehandedly killing four Americans in the Wild West. That's so unrealistic." No bias there! (To be fair, I was a bit "whatevs" by that scene also. Lucas McCain–okay, but not Frank.)
Ultimately, we really enjoyed it and will keep it in our regular rotation when we have another long driiiiiiiive…like every other day.
Did you know there's a study guide?
You didn't? My bad!
There's a study guide as part of LiveTheAdventureClub.com, which is Heirloom's club to share bonus material, a forum, amazing articles (seriously solid and helpful articles), and several other goodies.
The study guide includes the following:
A brief bio of the author
A brief intro to the company
Lessons corresponding to marked segments of the audio
Comprehension questions
Thinking further sections
Vocabulary
Expand your learning segments
Three Bible studies
Per usual, my older children find the comprehension questions to be too simple, since they comprehend it easily, but my middles and youngers benefit from that–it solidifies the information or clarifies areas where they may have gotten lost. We answer them orally when we answer them at all.
The digging deeper questions are highly beneficial, and would make good writing assignments for the older set. We generally do those orally, too. We talk a lot.
My favorites are always the segments entitled "Expand Your Learning." They offer tidbits of free and highly interesting information you don't have to work hard to digest. Ahem. Cuz sometimes I'm lazy.
Were I studying this time period in history right now, I would be moving at a slower rate through the story and using the study guide extensively, as we have in the past with previous Heirloom Audio Productions.
The Bible study topics are as follows:
God's Grace
Becoming a Christian
Honor Your Parents
Is this parent-heavy?
You can get as involved as you want. You can use it as an intense history study, as a supplement, or as pleasure listening. You can use the study guide fully or not at all. You can have middles and older children go through it all on their own. It's entirely up to you!
Additional thoughts for other frugal and/or large families:
Our whole family listens to these together. The kids are 2-20.
Additional thoughts for my fellow roadschoolers:
No more driiiiiiiiving when you've got this baby! It's a small case with two CDs, so it's not a space hog. We currently travel with five Heirloom productions in the rig so we can listen at will. You can also access the ebook, mp3 files, and study guide online, which requires an internet connection but no shelf space whatsoever. If you have an adaptor to listen to mp3s in the vehicle, you're set!
Will it stay on the road with us?
Absolutely!
Summary:
We can't recommend Heirloom Audio Productions Henty dramas enough! Character building, memorable, educational, and exciting, they enthrall our girls and boy, and even keep me awake. They're an excellent addition to history class or a lifestyle of learning and adventure.
Want to know more?
Click on any of the links below to learn more:
What other parents are saying:
Other Homeschool Review Crew parents also reviewed Captain Bailey's Heir from Heirloom Audio Adventures. To get their opinions, click here or on the banner below:
Social Media Links: