We were given lifetime access to Homeschool Rescue, developed by Heather Aliano of Only Passionate Curiosity, in exchange for this review, and we accepted, because some days our homeschool could use a little rescuing.

What you need to know about us:
We have been homeschooling since the beginning. Not the beginning of all time, but the beginning of our children's schooling. I don't know when you start counting that–0, 3, 5, 9? We have graduated two students–well, sort of. Hannah always tells Marissa that she (Marissa) is a high school dropout, since she dropped her high school plan at 16 and started college instead, and will be starting her senior year of college directly after "officially" finishing her senior year of high school. Whatever.
Our other kiddos are in (ish) grade 10, 8, 5, 2, and Pre-school. Plus there's Eb. He's one. He's industrious. That's a nice way of saying destructive.
All this to say we have considerable experience homeschooling at every level, even college-at-home.
Also, our homeschool is a little…unique. Remember, we are roadschoolers–we have lived on the road full-time for the past five years and three months. Plus we have a chronically ill child. Plus we're us, which is enough to derail any homeschool!
All that to say there really aren't many homeschoolers out there who can understand our unique situation and offer guidance.
And that brings me to my two initial thoughts about the course before I started:
I need to get more organized, like I used to be.
I hope Heather has some ideas…but they probably won't work for us…but maybe they will…so I hope Heather has some ideas…but they probably won't work for us…but maybe–and so my brain spun.Wheeee…the ride that never stops.
Let's summarize: me=experienced, disheveled, skeptical, hopeful.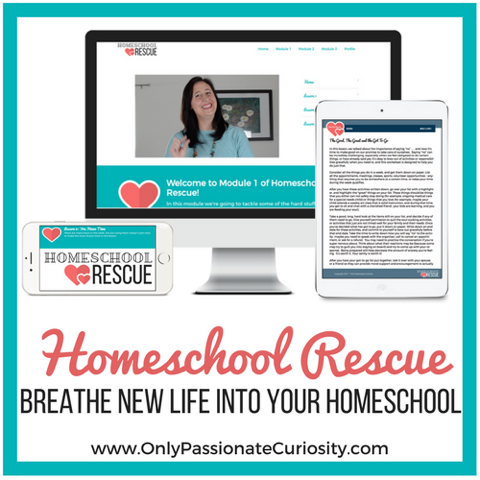 What is Homeschool Rescue?
Homeschool Rescue is an online course for moms (although a homeschool dad could also benefit) who are feeling inadequate or overwhelmed by their homeschool experience.
If you feel like that scene in Harry Potter: The Sorcerer's Stone where the kids are caught in some sort of weird snake-like plant under a spell that's pulling them down and the more they struggle the more they get stuck, like quicksand for us muggles, then you know what I mean. Your homeschool might be suffocating you, strangling you, drowning you, and you see no hope.
Homeschool Rescue helps you out so you can relax (the key to getting past that spell), get the sorcerer's stone and defeat He-Who-Must-Not-Be-Named…or, perhaps a bigger challenge, homeschool your kids with joy and without feeling so in-over-your-head that you can't catch your breath.
In other words, it is intended to help you stop feel like you're drowning and find the joy again.
What can you expect?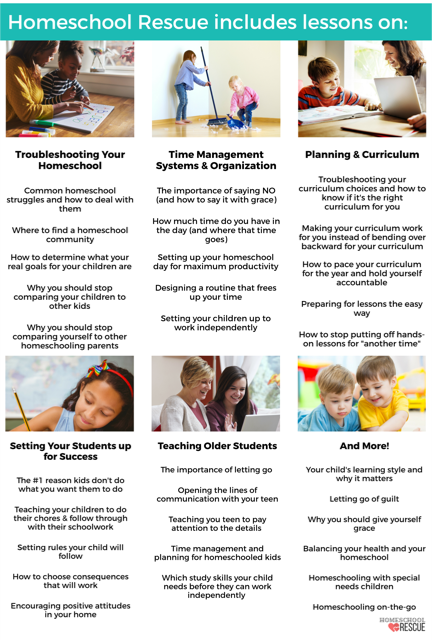 In Homeschool Rescue, you will watch videos each week and do homework. That's the gist of it. But there's more.
There are resources galore to do anything from analyzing your curriculum to assessing your children's learning styles to, my personal favorite because it's also personal weakness, getting serious about follow-through. If there's something that you particularly struggle with, there are bonus materials that can help you dig deeper.
Heather addresses chores, scheduling, teens, mom guilt (argh! that demon!), learning styles, and so much more! Check out the graphic above for a nice overview of topics.
If you feel a little twinge of not-good-enough, don't worry. While Heather will definitely call you to a higher place, she will not use guilt to do it. In fact, she sets to rest your irrational fear that the government will take your children in the night for educational neglect…unless you really are neglectful, in which case she encourages you to seek help. But chances are if you're reading this, you are far from neglectful, even if you feel like it some days months.
To help keep you moving forward and fill up your mom tank, Heather sends weekly emails that are encouraging–not overwhelming! Thank you, Heather!
There is also a Facebook support group. Now, I am not very good at Facebooking, because it's one of the things I keep to a minimum for my own time management sake. I didn't take advantage of this group much, but I did pop in, say hey, and look around a few times. What a wonderfully supportive and encouraging haven on the web! Plus, between the Facebook group and the emails, Heather is very present.
Through the Facebook group, you may also request an accountability partner. In fact, it's encouraged, so you are not alone on this journey. I think this is brilliant! I really should have gotten a partner. Of course, if you're the introvert who balks at the idea of having to talk to another human being, relax–an accountability partner is not obligatory…although, seriously, Heather does encourage us to teach by example, which is reason enough to stretch beyond the comfort zone, don't you think?
Heather is opening up Homeschool Rescue for sale from now until June 1, and then again later in June. She wants to have a limited number of people enrolled at once, so she can focus on their needs and help out as much as possible in the Facebook group. She's putting the success of your homeschool over her bottom line. Good girl, Heather!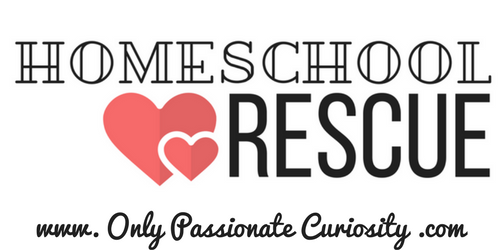 Is this time-consuming?
Doesn't it feel like there's never enough time? I know it feels that way to me. Do you really have time for yet another self-improvement, homeschool-transforming project?
You do.
If you go through every section of the program, including the homework and the bonus items, it will take some time. Here's the irony. Lesson one, right off the bat, calls you to step up to the mirror and assess yourself realistically–are you being lazy? If so, there's some more time for you. Several sections touch on aspects that can help you "find" more time, but module two specifically deals with time management. All throughout you will be finding time in your life that you didn't know or forgot you had.
So, yes, this will take time, but ultimately it will make you more efficient, so the rest of your homeschooling life rolls along more smoothly.
In no way will it bury you, and if it does, slow down. If you stay on track and focused, you can complete the whole thing in a couple months, which is great, because the Facebook group will be on the same page as you. But if you are as easily distracted as a caffeinated fruit fly…well, see my summary section below. Look, a squirrel!
Additional thoughts for other frugal and/or large families:
There is a section on working with multiple children, so if you haven't come to that point in your homeschooling, or if you need some tweaking, there are some definite helps in that area from a mother of four.
Also, the time management section, as I said, will help you free up time and become more efficient.
Finally, there is a section on helping your children become more independent learners. I can say from experience that this is huge! My children work very independently on many topics, and this frees me up to teach other children, eat chocolate, make lunch, or help shoot a crazy YouTube video.
If you're homeschooling, oh, eight kids, like us, you might have some older kids, and you might wonder how a mother of only pre-teens and littles could offer an entire module about schooling teens. Good question. She was in cahoots with several other homeschool families to work on this section. I have to admit that I skipped ahead to this section, because I had the same question as you did. So, no, she is not coming at it from her perspective alone. Nothing teaches like experience, but many mentors with experience do a great job, too.
Regarding cost, your access is for life. (Am I the only one who thinks I get put on a hit list whenever I have lifetime access to something? I am? Forget I said anything.) There are two price levels–one includes access to the course and the Facebook group, and the other is the VIP which includes one-on-one coaching.
Hit list or not, I like the idea of being able to go back to the course later as other children grow into new areas of learning and new struggles are revealed. To be honest, I skimmed (or skipped) certain sections that were totally irrelevant to me, like special needs information, but if there is a change in our situation in the future, I will be happy to have that resource at my disposal at no additional cost.
Additional thoughts for my fellow roadschoolers:
While there is a lot of wonderful information in this course, we roadschoolers are a different breed that I don't think anyone else on the planet quite comprehends. Any roadschoolers out there wanna give me a loud AMEN?!
Crickets…
Well, it's true. We have some considerations to which most homeschoolers don't give a second thought. For example, scheduling. Holy smokes! I know most of you roadschoolers stay in one spot for a couple of weeks at a time. We generally move every 2-4 days, sometimes more often. Schedule? What's that? Heather talks about planning out your year, but we struggle to plan out our week!
Also, while Heather includes numerous printables, including planners for Mom, academic planners for high schoolers, to-do lists for kids, "homework" for Mom during the course, and more, you probably, like me, have to be as paperless as possible. That, for me, required skipping the printer, and working from the screen. (See next section.)
And organizing our homeschool space and supplies? What's that thing called space, and that other thing called supplies?
As with everything else in life, being roadschoolers requires adaptability. Heather encourages you to assess your own situation and gives you the tools to work around your difficulties (chronic illness, for example). You may not be following every aspect of her course, such as printing planners, but the course teaches you to assess and adapt to your unique needs and situation.
Even if everything doesn't apply, there is so much in the course that you will come out of it a stronger, more efficient homeschooler…if you do the work. You can't just watch the videos–you have to make some changes.
I know, I know. I'm Lutheran–change is hard.
Now that I've said all that, let me tell you that there is information for homeschooling on-the-go. So what do you think about that?!
Also, if you don't want to print, it is still completely doable. And if your internet connection doesn't enable you to watch videos without being totally annoyed or frustrated, you can download the transcript or audio. (I did a mix of transcripts and video, depending on our connection.)
Will it stay on the road with us?
This is a digital course, so it will take up no room at all on our travels. I am definitely going to keep it.
For the purpose of the review, I moved faster than I would have liked and skipped lots of homework. Now I feel free to go back to the beginning and take my time to embrace one section at a time, at about a lesson a month. I know, I'm slow, but here's something wonderful about Heather. She said nobody is behind. Go as slowly as you want or need. No guilt!
Thank you, Heather. I believe I will.
Summary:
There is much of value in this course, even if you are experienced–we all get lazy in areas or overly zealous at times. Sometimes we need a guide to hold our hands or a swat on the backside to jolt us out of our doggedness. Truth.
I highly recommend Heather's tough love and honest grace to anyone who does not feel that he or she is "in a good place" in their homeschooling. If you're tempted to send your kids away on the giant Twinkie on wheels, Homeschool Rescue might be what you're looking for. If you feel like your homeschool needs a little reset, this could be the thing. It offers hope, a plan, and an honest look at yourself. It also offers comfort and encouragement, but not permission to be lazy.
Essentially, there's something for every mom…and probably some dads.
Want to know more?
Click on any of the links below to learn more:
What other parents are saying:
Other Homeschool Review Crew parents also reviewed Homeschool Rescue. To get their opinions, click here or on the banner below:
Social Media Links:
Facebook:  https://www.facebook.com/OnlyPassionateCuriosity/
Twitter:  https://twitter.com/opchomeschool
Pinterest:  https://www.pinterest.com/OPChomeschool/
Instagram:  https://www.instagram.com/onlypassionatecuriosity/
Goggle+:  https://plus.google.com/b/110290451358830656260/+OnlypassionatecuriosityHomeschool