Hewitt Homeschooling sent our 16-year-old daughter Elisabeth British Medieval Lightning Literature & Composition in exchange for this review. Whether or not you are interested in British Medieval literature for high schoolers, you might still be interested in Hewitt Homeschooling–they offer curricula for many levels and on many topics. 
What you need to know about us:
We love literature.
Elisabeth loves literature.
Elisabeth opposite-of-loves writing assignments.
That's enough about us.
What is Hewitt Homeschooling and British Medieval Lightning Lit & Comp?
Hewitt Homeschooling has been around for over 50 years as a consulting company. Now, however, it focuses on serving homeschool families with its resources. They incorporate character training, academics, and service in to their materials. They also encourage homeschool families to create an environment of balance and flexibility, in part by not recreating the school atmosphere at home.
If you've read the classic homeschool literature, you may recognize some of those principles as being those of Dr. Raymond Moore. In fact, he and Carl Hewitt are the co-founders of Hewitt Literature.
I made it this far in this review without a single bit of cheesy humor. You are most definitely welcome.
So what is Lightning Literature & Composition?
"The difference between the right word and the almost-right word is the difference between lightning and the lightning bug." ~Mark Twain
The point behind the high school level Lightning Lit & Comp courses is, according to the teacher's guide, "acquiring college-level composition skills by responding to great literature." The great literature that British Medieval Lit requires are the following:
Beowulf
Piers the Ploughman
Sir Gawain and the Green Knight
Canterbury Tales
There are also other shorter reading sections in the student guide that don't require separate books.
The student will work through an introduction that explains the importance of reading and writing. It also gives basic writing guidelines. The student's guide then takes the student through eight lessons, each broken into an intro, comprehension questions, a literary lesson, and writing exercises. After completing each lesson, the student will have a grasp on the historical background and author's biography, a thorough understanding of the book or poetry read, and (hopefully) a new writing skill.
The program we have includes a weekly schedule as opposed to a daily schedule like the younger courses include. This is, obviously, because your high schoolers should be a little more independent than, say, your fourth graders.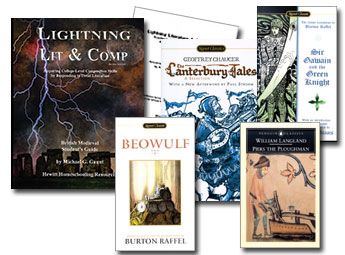 What can you expect?
This is straight out of the mouth of our sixteen-year-old.
The writing assignments:
"It had a quick overview of writing structure and everything in the introduction to the course, but it seems more like it's teaching certain aspects of writing style and such as opposed to basic writing." The assignments are at a higher difficulty level than other programs we've looked at and tested. It is definitely a challenge. Of course, "I just don't like writing assignments."
The literature:
"The literature is really good. I like the books." The books are not difficult (but she reads 1800s British and American literature just for fun).
"The student guide is written from a Christian perspective."
And this:
"I think it's lame that I have to answer questions about the introduction to the book, an introduction that someone else wrote."
Ha ha. She makes me chuckle.
How did we use it?
Elisabeth is working through the program exactly as written, but at a slower pace. We do most programs at a slower rate, since our music mission schedule is wacky and we school year-round…except when we need to take a couple days off to make cookies. (Whoa, that is the first cookie comment in this hole post. What's wrong with me? Obviously not enough cookies.)
I am not doing the program with Elisabeth, but I am in charge of checking over writing assignments, which isn't too tough. (See the next section for more on that.)
Is this parent-heavy?
What? She's doing what?
No, at the high school level there doesn't need to be much parental involvement, except, naturally, for checking over writing assignments. You can, however, get highly involved. It's really up to you and your student's needs.
There is a teacher's guide explaining the program and offering some guidance to parents in the form of the following:
answers to comprehension questions
schedules
writing exercises from the student guide
discussion questions
project suggestions
grading tips, templates, and checklists (very useful)
extremely beneficial tips to encourage the young writer
Which brings us to this option:
Hewitt offers a paper evaluation service. For a current cost of $250 a year per student, you can submit up to 24 of that student's papers for professional evaluation. I'm a writer and I still think this is a wonderful opportunity for an outside, objective, professional opinion on your student's strengths and weaknesses.
I didn't use the evaluation service, though. I already know my girl's weaknesses. She's allergic to writing. Achoo.
Additional thoughts for other frugal and/or large families:
The materials are not consumable, and the literature books are not expensive. Of course, that does not include the costs of cheese curds and cookie ingredients for bribery/motivation.
Additional thoughts for my fellow roadschoolers:
There is no need for an internet connection.
Most of the literature books are available on Kindle, so no space there. If you (like us) prefer paper books, you only need one at a time. The guidebook is pretty thin. You're good to go for shelf space.
The writing evaluation program might be just the thing you need since finding a real-life writing tutor or a writing co-op probably aren't in the cards for us full-timers.
Will it stay on the road with us?
I'm leaving it up to our daughter, but so far she is interested in continuing. No bribery included. I can't guarantee she'll continue with the writing assignments, however, without a hefty dose of chocolate motivation. (Yes, food is a motivator–we're human.)
Summary:
I love the concept behind the entire Hewitt Homeschooling organization, and their literature/writing programs do a lovely job of bringing that to a head.
Want to know more?
Hewitt Literature has numerous literature products for all grade levels. By way of example, take a peek at some of the Speaking specifically of the high school level, options include
Each includes a teacher's guide and student manual, and relies on top-notch literature that every child (and adult) should read! Check out the site for their many offerings.
What other parents are saying:
Other Homeschool Review Crew parents also reviewed some of the many products from Hewitt Homeschooling. To get their opinions, click here or on the banner below:
Social Media Links: