In exchange for this review, Memoria Press gave us Second Form Latin Complete Set. There are no affiliate links in this post, and I will not speak to you in Latin. Agreed? Agreed. Also, I have been quite sick for several days and I'm wiped out–blah–so there will be no humor. You're welcome for keeping that cheese under control. I should get sick more often, right?
What you should know about us: 
A couple millenia ago, I studied Latin for two years in high school. Why? It's a dead language. Duh–because my big brother did! Hello!
As it turned out, that was a smart move. Here's why:
It improved my comprehension of grammar, much to my husband's chagrin.
It expanded my rather weak vocabulary due to a rather weak memory. It did this by inserting in the recesses of my mind the root meaning of many of our English words, giving me the ability to decipher words I had never heard before.
It made learning other languages easier–I studied (and am currently studying) Spanish for three years, French for one while living abroad, and Italian for fun.
It made reading other languages almost simple–not actually simple, but almost. In fact, I am currently reading fiction only in Spanish. I come across words I don't know, but many of them are Latin-based, and I can figger 'em out instead of having to look every other word up. Ughitty.
Because Latin is such a logical language, it helps the brain think logically–you wouldn't know it by reading this post, though, would ya! Honestly, though, I thought college logic was so simple that it was almost a joke.
It gave me the mommy super power of being able to speak the Lord's Prayer in Latin and to translate quips and quotes from Latin into English, and that makes me super cool…in my geeky world.
Because I wanted my kids to be equally cool geeks as parents, I wanted them to study Latin. My initial plan was to start them in third grade, but I also planned to get in shape, keep the house clean, learn to make a tender roast, and make my kids bilingual by age four. Life happened. I kept them alive–someone give me a cookie.
A couple years ago, I bought First Form Latin from Memoria Press with my own money. My two oldest girls worked through it first, followed by my next two girls. Elijah wants to jump in also, because he wants to be a chef and a pastor, and Latin is required by our church's seminary…and he could be totally geeky and write his menus in Latin.
I love geeky.
What is Second Form Latin?
Second Form Latin is a continuation of First From Latin. You're welcome. It is a grammar-based Latin program that also teaches an extensive vocabulary. It helps prepare your students for the upper levels where the real translating takes place.
The complete set contains the following:
DVDs of the video lessons (to me, this is the most crucial aspect of the program)
teacher manual
student workbooks–these are consumable, so you will need one for each student
quiz/test book
answer key (it says teacher on it, but…ahem…I let them look at it themselves)
pronunciation CDs (hello, road trip!)
vocabulary flash cards
What can you expect?
Latin is a logical language with a rather regimented structure. The Form Series of Latin (at least the two we've got) takes a very simple, step-by-step approach to learning the language via mastery. Because they approach it from a grammatical perspective, your students will not be doing a lot of translating at this stage. They will be memorizing structure, conjugations, declensions, and other fancy words. Specifically, they will learn this:
180 vocabulary words (to add to the 185 in First Form)

the indicative active and indicative passive tenses of the four verb conjugations (to add to the first two verb conjugations from First Form)

personal pronouns

prepositions

third declension adjectives (adding to first and second from First Form)

i-stem nouns

and a leeeeeetle bit more
Intense? Not really. It does move at a good clip, but my girls have had no trouble keeping up by working twice a week on lessons with some study in between.
The first section of Second Form is a review of First Form Latin, so if you, like us, skipped a year between Forms, or if you, unlike us, take summers off, you don't need to go back to First Form to succeed at Second Form. You could, but you don't have to. You will likely need to take it slowly in the beginning, but slow and steady wins the race, and what's the rush anyway?
You do need to do the prerequisite of First Form Latin or a similar grammar-based Latin program before moving into Second Form. The review in the beginning will help bridge the gaps, but if you're starting at the beginning, just do the Form Series in order.
Our approach is watching the videos and then doing the assignment in the student notebook. We have not used many of the vocabulary cards yet, but they are definitely handy tools. The chanting is very beneficial, quite fun, and highly reminiscent of my high school Latin days, without the redhead in the back row making fun of we kids who did our homework.
May I just say something about the videos. Of course I may–this is my blog and I'm sick, so I get whatever I want. The videos are funny. They're not meant to be funny, but the presenter has a dry sense of humor that makes us laugh out loud. Ha! Funny. He also really knows his stuff. Whew!
The only thing I would change about the videos is that I would have the presenter slow down a tad. My girls, however, said his speed is not a problem, and they're the ones actually doing Latin, while I just rest on my high school laurels. So, take that with a barrel of celtic sea salt.
The organizational geek in me loves that each form level is color-coordinated. Yup. It's true.
Is this parent-heavy?
I did nothing. My high schoolers work the Form Series without me. Sometimes I join in a chant of Latin conjugation, because chanting in Latin is contagious, but honestly, I did abso-stinking nothing. I'm so ashamed.
You, too, can do absto-stinking nothing, or you can be completely involved and totally live that teacher's manual…but you don't need to. It can serve as a self-teaching course. That said, if I were to use this with Elijah who is entering sixth grade, I would definitely do the program with him. (Actually, I would do First Form with him, and by the time he reached Second Form, I would probably not have to be hands-on anymore. Second Form uses the same format as first form, so the student should segue quite naturally.)
I know a pastor in Texas who teaches Latin to local homeschoolers at several different levels using Memoria Press materials, and he serves as a very hands-on teacher for all the levels. It's really up to you.
If you know no Latin, this program will still work for your family!
Additional thoughts for other frugal and/or large families:
The only item you will need to replace for subsequent students is the student workbook. That makes it much more affordable.
I think this works best with two or three students working together, because they can chant together and quiz each other, but one of my daughters preferred doing it alone so she could move at her own pace, which was faster than her sister's pace. To each their own.
Additional thoughts for my fellow roadschoolers:
How cool is it to be able to go to our national historical sites and be able to read all those Latin slogans and inscriptions!
Also, the books are all slim, so they won't take up too terribly much room on your shelf or in a book bag.
The flashcards, of course, will need to be contained, the little stinkers, but a rubber band or a hairband works just fine for that. The good news about the flashcards and the potential mess is that they come in perforated sheets. The cards are numbered according to their corresponding lessons, so you only need to punch out a few at a time, and the rest stay neatly contained. We keep the un-punched-out sheets in a folder on the bookshelf with the books.
Will it stay on the road with us?
Absolutely! We have quite a few kids to get through Second Form Latin over the next several years, so it will reside on the shelf beside its little brother First Form Latin until all the kids have been through two years of Latin–beyond that is up to them.
Summary:
I personally believe Latin has much value, or I wouldn't waste our time on it. If your kids do not do Latin, they will not die. Well, eventually everyone dies, but nobody will die from not doing Latin. If you want to give the Latin world a try, I recommend committing to two years of the Form Series and then deciding where you want to go from there. If you do all four, you'll be in the fun translating stage. Well, I think it's fun.
As an aside, I took two years of Latin in high school, got a smoking high score on my ACT test, got my college debt degree, and am perpetually unemployed and making no money. My big brother took four years of Latin, got a nearly perfect score on his ACT, did not get his college degree, and was recruited by Google. Yes, that Google. Is it the Latin? The world may never know. I'm teaching my kids Latin.
Want to know more?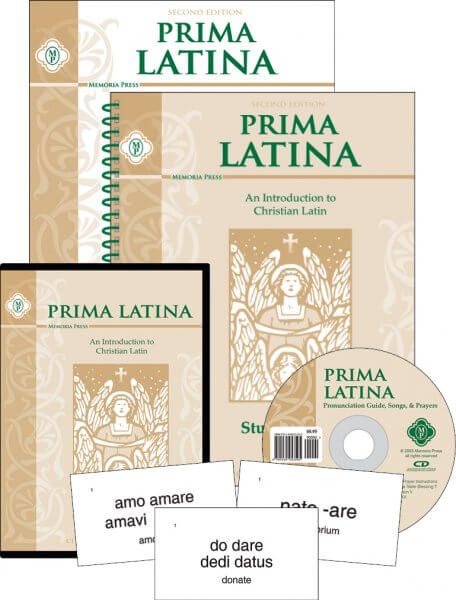 I wish Memoria Press had an affiliate program, because I love them! They have complete curricula for each grade if you're interested in that route.
I mentioned above that I had wanted to begin my kids in Latin at third grade. Memoria Press makes it completely doable to start your kids, yourself, or your grandmother at any age…okay, maybe not much before third grade. Check out their Latin programs here.
One of their authors adopted, homeschooled, and raised to adulthood special needs twins. She supplies special needs curricula and books that I've heard wonderful reports about in the real world from fellow homeschoolers we know from our travels.
They also have a very informative and interesting magazine/catalog, The Classical Teacher, that I really enjoy.
There's so much more that, seriously, if you're at all interested in the classical approach to educating or you, like us, simply want to add a few classical elements to your otherwise wing-ding doodly-dop method of homeschooling, check out everything they have to offer right here.
What other parents are saying:
Other Homeschool Review Crew parents reviewed the following products:
To learn more about those products, click on their names above. To get the opinions of the other reviewers, click here or on the banner below. Each reviewer lists the product they reviewed in a Linky, so it won't be difficult to find the ones you are looking for.
Social Media Links:
Memoria Press is very active on social media. Check them out at any of these places, and follow them to learn about deals and new products: