You've heard me rave about Thin Stix from The Pencil Grip, Inc. in the past. I'm going to rave a little bit more, because this time they've gone above and beyond by creating the Thin Stix Creativity Pack.
But first, this very important public service announcement from our always-concerned-for-everyone's-welfare daughter, Hannah Marie: "Don't leave Kwik Stix on the floor in the middle of the night or someone might think it's Chapstick."
Now that we've gotten the warnings out of the way…
You can read all about Kwik Stix at my two previous reviews here at The Simple Homemaker and here at The Travel Bags, or you can read this super quick summary about the basics of Kwik Stix:
Solid tempera paints that do not require water or paintbrushes.
Packaged in a lip balm-type tube, but longer. (May I refer you back to Hannah's warning?)
Dries in 90 seconds, although when you gob a centimeter of it onto a pumpkin stem, it takes a few extra minutes to dry.
Washes off of tables, floors, hands, faces, cats…
Best RV craft supply ever…and I mean ever!
(The art on this page was created by a five-year-old and her little brother. If you want to see what some of the older kids did when playing with Kwik Stix, please check out our other two reviews linked above.)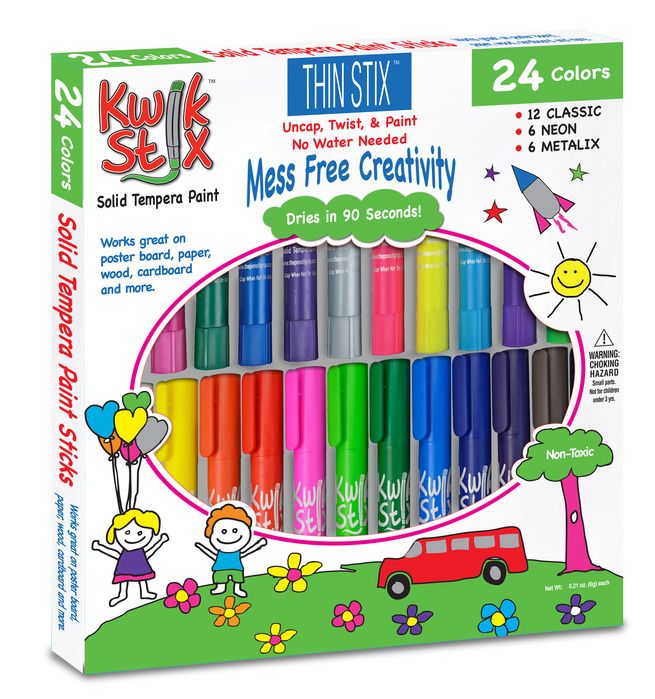 What I want to focus on is how this batch is different from the previous batches we've reviewed, and perhaps re-emphasize a point or two.
First, the Thin Stix Creativity Pack contains, as the name implies, Thin Stix. The regular Kwix Stix are a shorter, thicker tube o' paint, while the Thin Stix are longer and thinner.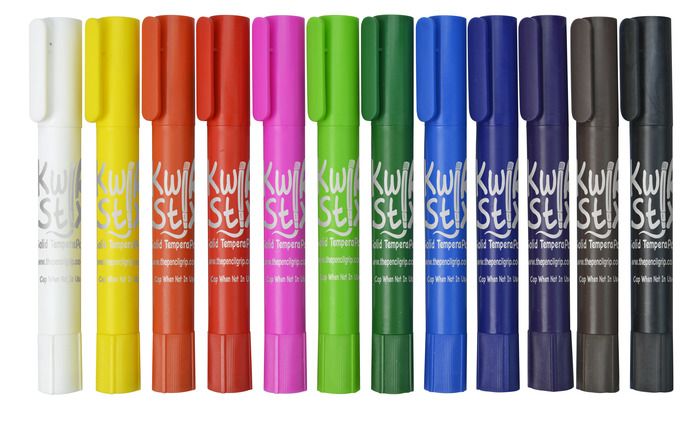 The thinner cousin is great for adding detail or for painting small items, like the little initial ornaments Eliana Charís made for Christmas presents (or gift tags, if she changes her mind and dumps them off on me).
Second, the Creativity Pack contains six neon stix. I am going to put on my QOTO (Queen of the Obvious) crown and tell you that the neon stix are…wait for it…neon. Of course, I mean they are neon colored, not neon lights, which would just be weird in a cool, high-tech sort of way.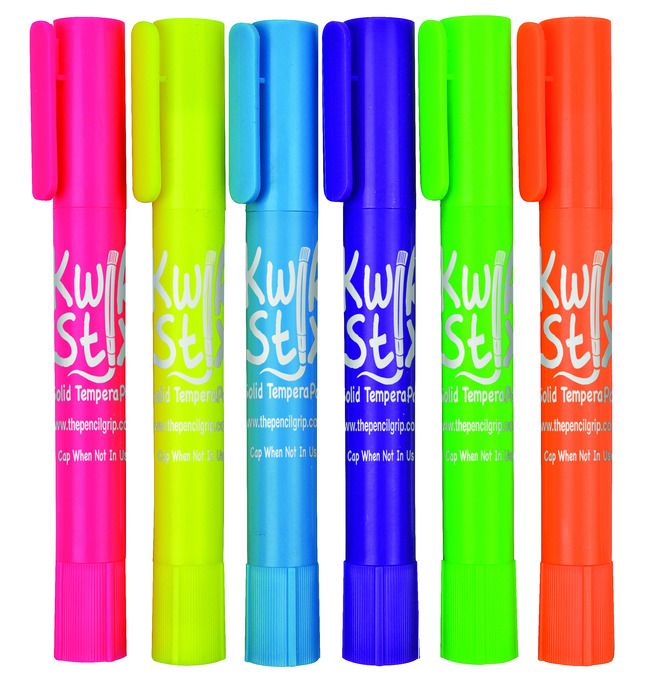 Third, the pack also contains six "metalix" stix. Say that one time slowly and you deserve a cookie. The "metalix" are the biggest reason I wanted this particular set. (We always want more Stix, but the metalix were the selling point here.)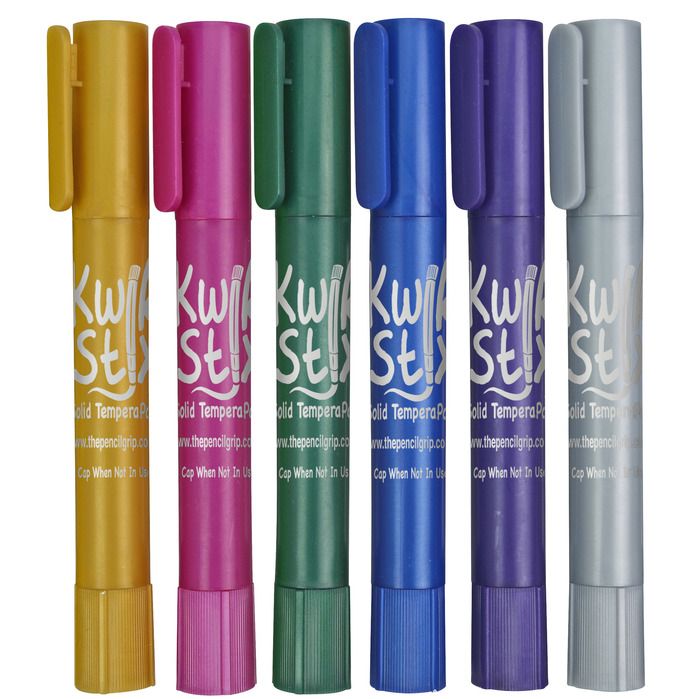 I love the shimmery metallic glimmer that those six shining stars give off. I also like that the metalix contain a variety of colors, not merely silver, gold, gray–you know, the colors of metal. Very fun! Our metalix pumpkins looked cool this year!
(They looked cooler in real life. That stem is actually a shimmery gold, and that red paint on Ellie's forehead washed right off!)
If you counted, that's 24 stix of artistic brilliance in each Thin Stix Creativity Pack. I'm one of those people who counts every item in a container, while my daughter Elisabeth stands beside me and says, "Twenty-four. Twenty-four. Twenty-four. The box says twenty-four." But I still count. I counted for you. It's 24.
Told ya.
And now, a few rehashes from past Kwik Stix reviews:
Thin Stix are the single best craft project ever to show up in our trailer. The colors are brilliant, the children can paint without my having to be a helicopter parent (hover hover hover crash), and the mess is negligible because it washes off and it does not require water.  Did you hear what I just said?!
Translation:
If you are in a mom-coma and your two-year-old asks if he can paint and you say, "Mmmmmm," which is translated into whatever the child wants it to be translated into, and you awake from your coma 20 minutes later when your two-year-old brings you a painted masterpiece, you can rest assured that Kwix Stix will wash off almost everything involved in the fun.
I say almost, because it has washed off everything we've tested it on, but it obviously will not wash off the pages of the ancient family Bible, so keep that up high. Also, it won't wash off Big Sister's watercolor portrait or Big Brother's science fair poster, so, duh, use your head.
That wasn't very nice to say, was it? Ha ha.
Here's another obvious:
I keep saying this is the only art supply you need, but actually, we have a few others. We have crayons, colored pencils, hidden markers that almost nobody is allowed to use, and cheap watercolors for when we have a picnic table to paint at…at which to paint. Somebody also snuck some glittery glue into the trailer. Glitter is not trailer-friendly or cat-friendly.
When the kids want to create unsupervised, they have the option of crayons, colored pencils, or Kwik Stix. Kwik Stix almost always win. Plus they have the option of painting on almost whatever they want. Not the furniture, and not the cat, although it has washed off the furniture. Our Kwik Stix have not been tested on animals.
Also, our professional portrait artist, Marissa Renée, has her own art supplies, because, well, your Kwik Stix will not result in this:
The daughter who painted that was going to create something for us in Kwik Stix, but her actual clients pay her for her artwork, and I, well, I make her scrambled eggs which make her sick, so I'm not very high up on the artwork priority ladder.
But I am at the top of the priority ladder for yet another up-and-coming artist, so my world is filled with these:
We are going to test our Kwik Stix for use with paint brushes, but not today–people are screaming for lunch, can you believe them? Stay tuned for another Kwik Stix post and a giveaway!
Follow The Pencil Grip on social media if you want. I won't force you and there are no cookies, but they will let you know when and where the Stix are on sale because Christmas stockings need these things!
Facebook: https://www.facebook.com/thepencilgrip/
Twitter: https://twitter.com/thepencilgrip @thepencilgrip
Pinterest: https://www.pinterest.com/thepencilgrip/
If you're interested in what normal families think of Kwik Stix, please click here or on the banner below: